Group Life Insurance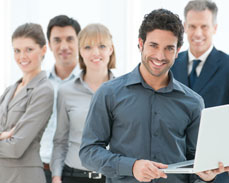 For an inexpensive but valuable addition to your benefit package, consider Group Life Insurance.
Las Vegas employers may overlook this option, not realizing how minimal the premiums can be on life insurance policies for their employees. For young employees or employees with health conditions which might preclude them from other forms of life insurance, having a life insurance policy as part of their benefit package may be the only life insurance coverage their family will have in the event of their death.
Most employees recognize the value of life insurance, even if they haven't made it a priority to invest in it themselves. When their employer provides them with Group Life Insurance, Las Vegas employees appreciate this benefit much more than they may openly express.
Call us to schedule a free consultation today! (702) 869-1610
Term Life Insurance
When considering the purchase of Group Life Insurance, Las Vegas employers will find that term life insurance can provide a significant amount of coverage for their employees at a very minimal cost. Term insurance provides a simple death benefit policy without any additional cash value. Even for employees who have their own personal life insurance policy, the knowledge that their employer is supplementing that with a term policy provides extra security should their family no longer have their paycheck available for ongoing support. There is very little administration time involved with term life insurance policies. Even the initial applications are very simple to fill out and submit.
Customizing Your Benefit Package
At Employee Benefit Solutions, Inc., we understand that group health insurance will generally be the primary product in a company's benefit package. We also understand how important it is to be able to provide a high-quality benefit package that is affordable to both the employer and the employees. Our staff is there to help you put together the best possible package for your employees and for your budget. Creating custom packages that include the right mix of benefits to appeal to each individual workforce is what we specialize in.
For more information on Group Life Insurance, Las Vegas employers may contact our life insurance specialists at Employee Benefit Solutions, Inc. We would be happy to discuss your options and the products that our carriers have available. Give us call!