Group Vision Insurance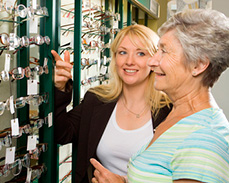 A natural addition to group health and dental benefit is Group Vision Insurance.
Las Vegas employers who want a fully comprehensive health benefit plan will find that adding vision benefits truly brings that plan to that comprehensive level where all their employee's health needs are being addressed and not just those being treated by medical physician in a clinic or hospital setting.
When a Las Vegas business desires to attract and retain quality employees, having group vision insurance as part of the benefit package provides a clear statement that you are a company who cares about the welfare of their employees and their families.
Call us to schedule a free consultation today! (702) 869-1610
Vision Coverage Statistics
Nationwide, 75% of Americans wear some sort of corrective lenses, either prescription glasses or contact lenses. According to recent statistics from the CDC approximately 58% of those Americans with health coverage through their employment or health insurance purchased privately have optional vision coverage. Many employers find that the addition of this option to their benefit plan is a popular one.
Vision Insurance Packages
We choose our vision carriers based on several criteria, availability of providers and quality of benefit packages are two of those criteria. A great vision plan that has few providers to choose from can easily diminish the value of a plan in the eyes of employees. Several vision insurance options are available through Employee Benefit Solutions, Inc. All provide high quality coverage and plenty of local providers to choose to from.
Creating a Custom Benefit Package
As a single source broker for all your employee benefit needs, Employee Benefit Solutions, Inc. will work with you in creating a custom benefit package that fits your immediate needs and can be easily adjusted as your needs change. Annual reviews with our clients ensure that EBS is always providing you with the exact products and services that you need to remain competitive in the marketplace.
When looking for Group Vision Insurance, Las Vegas employers will appreciate the variety of options available through Employee Benefit Solutions, Inc. Once they experience our personal and timely service, no other standard is acceptable. Give us a call and schedule a free consultation with one of our expert team members!